COFFEE COFFEE, YOU SWEET DIRTY EARTH JUICE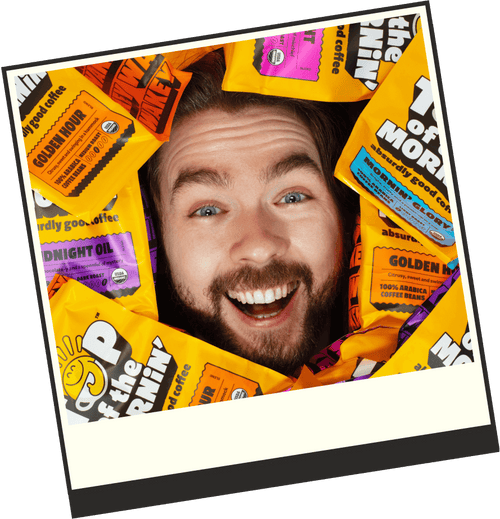 "Hey I'm Seán McLoughlin, you might know me as Jacksepticeye from my little low-key YouTube thing. Or you might not care who I am and just love coffee. Whatever, welcome!
I'm obsessed with coffee. The smell, the taste, the word 'mug', everything. But look, why so serious? Craft coffee should be more WHOOA! with a splash of GAHHH!
So here it is – Top of the Mornin'. So bright, even the darkest roasts are neon. THE freshest. THE richest. THE mellowest. THE best beans you'll put in your mouth, ever. It's like the cherry on the cake of coffee."
ONLY THE
BEST GET IN
If everything good in the world got together and made a baby, it would be Top of the Mornin' Coffee.
We source only the finest ingredients, partly because we love smelling beans, but mainly so you know they're USDA-certified organic, specialty grade.
We source ethically too, and make sure all our suppliers meet the highest trade, welfare and sustainability standards. Because that's just the right thing to do.
WE GIVE BACK, PEOPLE!
Life isn't sunny all the time. That's why we give 1% of sales to
Crisis Text Line, to help young people with their mental health.
FREE 24/7 SUPPORT VIA TEXT
Crisis Text Line provides free text-based support for anyone going through a mental health crisis. Trained volunteer counselors bring texters support in their moments of need, and empower them to move forward.
FOOTPRINTS? NOTHING TO SEE HERE
We offer carbon-neutral shipping on all Top of the Mornin Coffee orders! Based on the weight and destination of your order, carbon emissions are calculated and a donation is made to directly offset that carbon.

We chose a 1,000 year standard for the carbon offset meaning this carbon is being locked away for good, not just temporarily.
STAY UP TO DATE
Be the first to know about our special offers, news, and updates.