Mega Mug
A replica of our Classic Mug but a 30oz MEGA MUG. 
All other mugs bow to its bigness. Coffee kneels to its magnificence. We bring you the MEGA MUG – like our regular mugs but freakin' massive.

Wake up and bathe in the coffee.
Hand wash recommended. Microwave safe.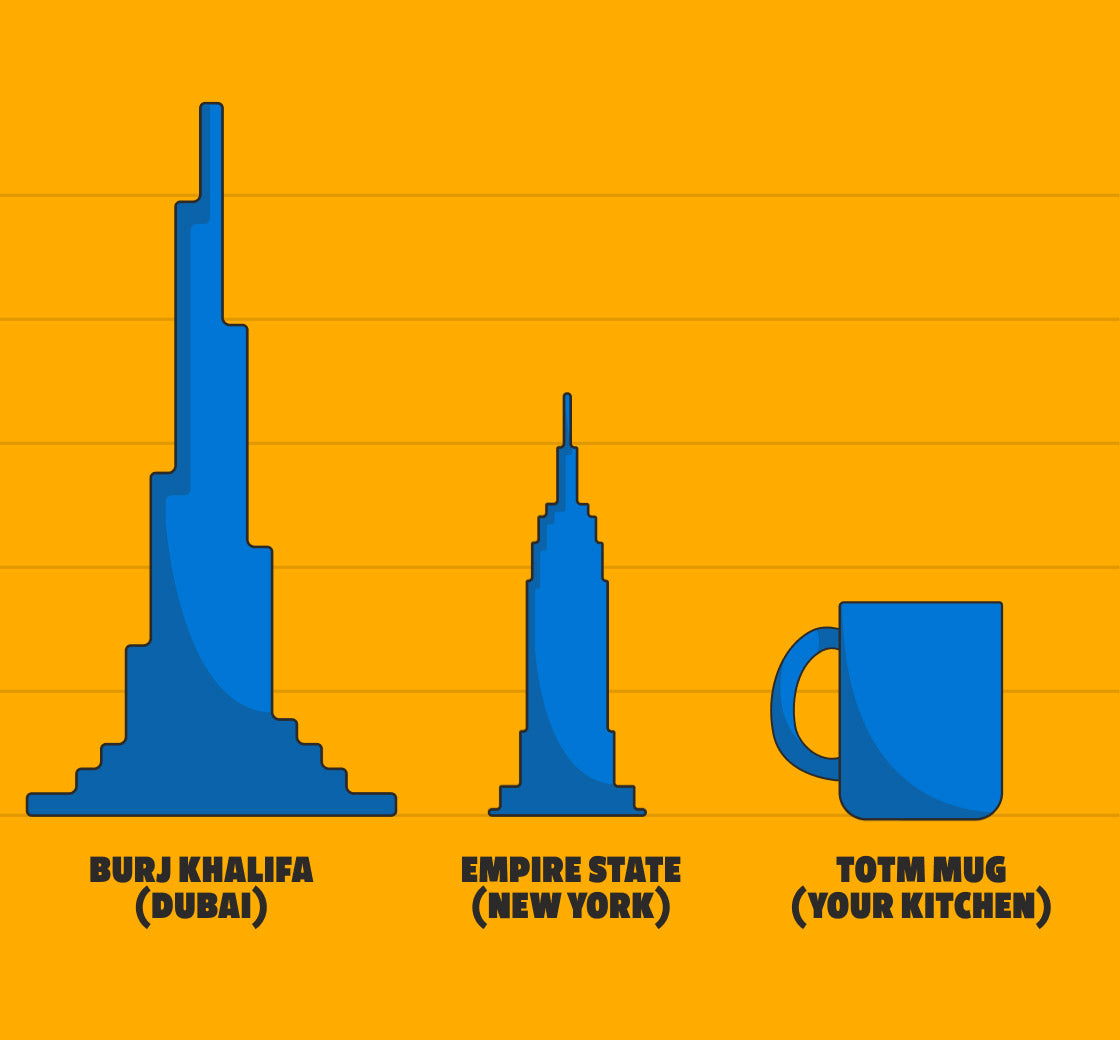 Daily Workout
Bicep curls a go-go
Caffeine Level OTT
Sleep? It's over-rated
Caution: Heavy Load
Lift with your legs, not your back
Warning!
Might upset your coffee machine, this thing is huge
My new favorite mug
This mug is so big and the handle is so well done that I never get burned when moving my mug of tea. It is the most useful mug I have!
My new daily-use GOBLET
I love this mug so much, it's silly as bajeezus and it holds my entire day's worth of coffee, morning and afternoon! It arrived with a crack through the corner, hopefully just in the glaze. That concerned me when I got it- it looks like it may have gotten bumped in shipping, but it was an easy fix with some epoxy. No point replacing it- I've already bonded with it and I wash it by hand anyway so no worries about dishwasher heat causing further damage. Other than that, I got it with the pin set (very cute!) and a bag of the double hot chocolate powder. It's all been very lovely having a massive super-mocha throughout my day! I look forward to trying more flavors :)
This cup holds a truly absurd amount of coffee (or any other beverage... or ice cream...) and I love that it's dishwasher safe!
when jacksepticeye does amsr and convinced u to buy his mug
I knew about top of the morning coffee way back when and recommended it to ppl that I knew that loved coffee but over time I found out he added tea coco ect to his product line so it got me interested in his coco so I proceeded to get the dark coco and loved the size of the container it came in plus the way it looked was great afterwards I seen his amsr video which got me to instantly get his giant mug and the enamel pin starter pack the design changes are interesting but cute it will be interesting to see what other new things he adds to the site
STAY UP TO DATE
Be the first to know about our special offers, news, and updates.