Ethically sourced
Making good coffee even gooder
Craft roasted
Small batches, gigantic flavor
Organic Beans
Out of this worldly good
Giving Back
1% of our sales go to Crisis Text Line
COFFEE COFFEE, YOU SWEET DIRTY EARTH JUICE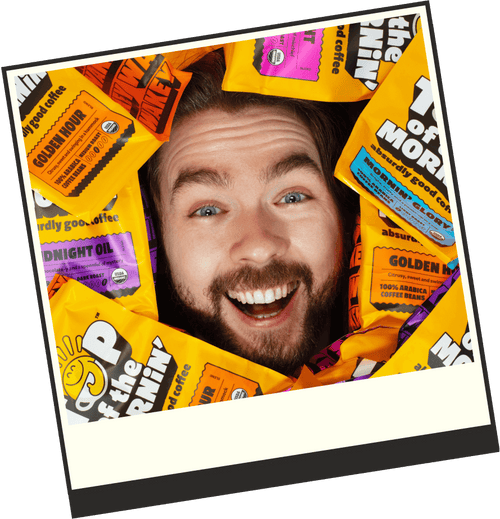 "Hey I'm Seán McLoughlin, you might know me as Jacksepticeye from my little low-key YouTube thing. Or you might not care who I am and just love coffee. Whatever, welcome!
I'm obsessed with coffee. The smell, the taste, the word 'mug', everything. But look, why so serious? Craft coffee should be more WHOOA! with a splash of GAHHH!
So here it is – Top of the Mornin'. So bright, even the darkest roasts are neon. THE freshest. THE richest. THE mellowest. THE best beans you'll put in your mouth, ever. It's like the cherry on the cake of coffee."
YOU'RE THE BARISTA NOW
Bought it. Drank it. Took it to work. Made people drink it. Everyone loved it.

SEAN

Tried for the first time today and paint me impressed! This is my new go to!

ARIELLE

My gf likes this one man.. she happy=me happy

NIKLAS
COFFEE, NAILED IT!
All the best stuff you can put in your mug.
STAY UP TO DATE
Be the first to know about our special offers, news, and updates.